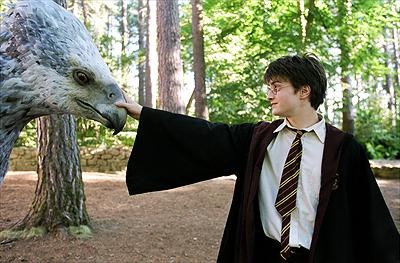 När den uppblåsta tant Marge flyger över kvällshimlen beger sig Harry ut på resa till sitt tredje år på Hogwarts. En fartfylld tur på nattbussen tar honom till Diagonalgränd, där får han reda på nyheten att fången Sirius Black har rymt och är på jakt efter honom.
Den nya terminen på Hogwarts börjar och Harry och hans vänner lär sig konsten att hantera hippogriffer (till hälften hästar och till hälften örnar), driva tillbaka föränderliga boggartar som byter skepnad, och får resa i tiden. Innanför skolans väggar finns en anhängare till "Den-som-inte-får-nämnas-vid-namn". Över skolan svävar de själasugande dementorerna, och hotar Harry.
I rollerna: Daniel Radcliffe, Emma Watson, Rupert Grint, Robbie Coltrane, Gary Oldman, Michael Gambon, Alan Rickman.
Regi: Alfonso Cuarón.
Originaltitel: Harry Potter and the Prisoner of Azkaban.  Amerikanskt-brittiskt äventyr från 2004.
Rek fr 11 år.
Lördag 20 december 19:00 | Söndag 21 december 11:15 (svenskt tal)  visas på Kanal 5